4th April 2008
HRH Prince of Wales visits Apnee Sehat
New Health Initiative Opens in Coventry to Address UK Health Inequalities
His Royal Highness The Prince Of Wales Joins The Newly Appointed Diabetes Tsar, Chief of the NHS Alliance and Chief Pharmaceutical Officer at Opening An innovative healthcare project called APNEE SEHAT (meaning "Our Health" in Punjabi) today launches a new Department of Health Pathfinder integrated community programme and outpatient suite which aims to address the needs for health education and access for South Asian communities in Coventry.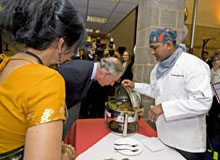 The programme, which has been commissioned by Coventry PCT and part funded by leading pharmaceutical companies and Social Enterprise grants, in response to a community request for lifestyle support.
This programme will provide targeted assistance with hard to reach individuals in the South Asian community through educating about risks and lifestyle choices and supporting behavioural changes to improve health outcomes, whilst at the same time remaining aware of religious and cultural sensitivities.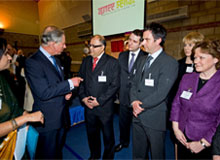 His Royal Highness The Prince of Wales was accompanied by the newly appointed National Clinical Director for Diabetes, Dr Rowan Hillson, Dr Michael Dixon, Trustee of the Prince's Foundation for Integrated Health and Chairman of the NHS Alliance, and Dr Keith Ridge, Chief Pharmaceutical Officer to officially launch this unique new service.
At the same time the magazine "Apna Health" (meaning "Your Health" in Punjabi), which directly meets the needs of the extensive South Asian community within the UK through dietary advice including healthy GI (glycaemic index) recipes and lifestyle recommendations, was launched.
Why is this important?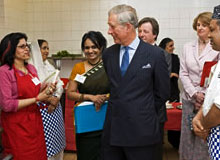 The South Asian population is six times more likely to develop diabetes than the Caucasian population1 and is approximately 50 percent more likely to die prematurely from coronary heart disease2.
This is because the death rate is not falling as fast in South Asians as it is in the rest of the population2. There is also evidence to suggest that Asian communities tend to be diagnosed at a more advanced stage of disease and have poorer survival rates2. This in some cases can be prevented or managed by the uptake of a more positive approach to diet, exercise and wellbeing.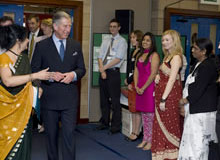 Evaluation from the Apnee Sehat pilot conducted in partnership with The University of Warwick, which has been running in Leamington, Warwickshire since 2005, has shown that there are anumber of uncontrolled risk factors that are prevalent in the middle aged South Asian community and in answer to this targets key health challenges such as diabetes and cardiovascular disease. The project has already had a positive impact resulting in the health awareness of the local community: as a direct result of the activities 91 percent of service users claimed they had made a lifestyle change to reduce their risk.
Dr Michael Dixon, Trustee of the Prince's Foundation for Integrated Health and Chairman of the NHS Alliance said:
"The services provided by Apnee Sehat are unique and have already demonstrated through their pilots that integrated working and a holistic approach to education is essential to help to address the health inequalities that face the South Asian population. It is critical that we use this model to demonstrate to other local health services that working alongside outreach projects, such as Apnee Sehat, will help us to reach out to all corners of the UK, improving access to health services so that the NHS is open and accessible to everyone regardless of their background."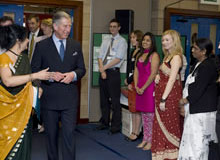 Dr Shirine Boardman, Co-founder of Apnee Sehat said:
"This launch is yet another step to addressing inequalities of health provision for the South Asian community. The Apnee Sehat project has been sensitive to the experiences, traditions and beliefs of the target community inspiring a will to change and it has worked positively." She continues, "We have created an environment of integrated working with all the partners in the community setting. It is absolutely wonderful to be working with so many organisations coming together focusing their energies on solving some of the most difficult health inequalities in one of the most deprived inner cities in the UK, and strongly supported by the pharmaceutical industry in creating the joined up vision and energy to succeed!"
Dr Rowan Hillson, National Clinical Director for Diabetes said:
"We all have our favourite foods. Learning which are best for us, and how to cook in a healthy way is important. The Apnee Sehat project has already made a big improvement in healthy eating in the South Asian community among whom diabetes is so common. I welcome Apnee Sehat's new magazine which promises to continue this good work. I hope that this successful project will encourage other groups to develop similar healthy lifestyle interventions tailored to the needs of their local communities."
The main sponsor for the Apnee Sehat Coventry launch event is Merck Sharp & Dohme. Sanofi-Aventis, Novo Nordisk, Schering Plough and AstraZeneca have also sponsored the launch.